Beth and Noah were really fun and easy to work with because their wedding theme was right up Wedding Elegance's alley! Since they were both in the Navy, they wanted a wedding inspired by all of their world travels. Beth had spent some time in Dubai and loved it so much she wanted to incorporate a mid-Eastern flair along with her color scheme, red and white. Although the couple were on a tight budget, Beth made sure to allot enough expenses on a custom-made wedding gown!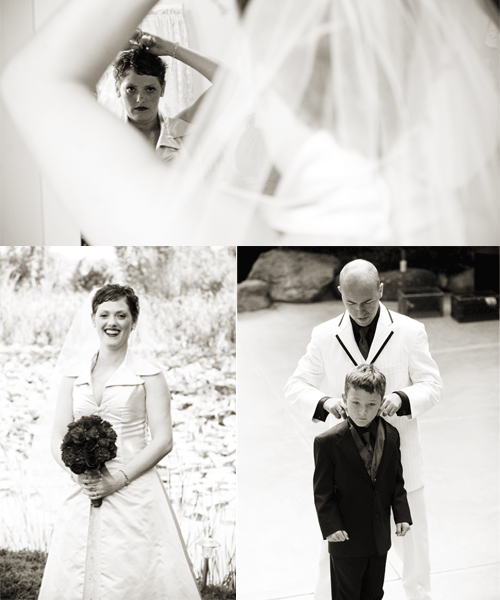 A memorial table was set out for Beth's mother who had passed away during the planning process of the wedding. Place cards set out with a ribbon overlay due to it being windy that day. Not only was their wedding travel-inspired, but the couple gave it a little rock 'n' roll edge as well! Each table was named after a rock band.
The bride arrived in a Cinderella-like horse carriage! How magical!
The gorgeous cake of red and gold was designed after pillow cases. Very Moroccan-chic!
Are you sensing what the bride's favorite color is yet? Red! Even the candy at the candy bar had mostly red-colored sweets.
For entertainment, Beth and Noah hired a sitar player, for the reception.
Red champagne flutes and red pillows on benches around the dancefloor gave the reception a romantic and intimate feel. The centerpieces were lanterns painted black–a chic and budget-friendly touch. Some of the tablecloths were actually handsewn by the groom! While in the Navy, Noah handled alterations on parachutes. No one was allowed to wear black that day, not even the staff!
Not many brides would allow another woman to dance around their wedding in a midriff-baring outfit, but confident bride Beth wanted to bring Dubai to Oceanside, CA with a belly-dancer!

Venue: Paradise Gardens in Oceanside, CA
Catering: Continental Catering
Photography: Unveiled Wedding Photography
DJ: Events by Design
Cake: Crumbs of Paris
Invitations/Stationary: Jen from Pink Star Design
Hair/Makeup: Bride's friends